About Us
The aim of Critters Pet Care is to give pet owners the peace of mind that their companions will be given the best of care while they're away. We take great pride in being reliable, honest, professional, and caring.
Critters Pet Care was founded in 2009 and is owned by Megan Keating. Daisy Tasker, Julie Masel, Louise Hammond, Kristy Hick, Ashley Cullen, and Hillary Harrison-Graeme each joined the team over the years as independent contractors, to help cover the growing demand. Please see this map for a detailed look at the regions covered by each of us.
To the left is a picture of some of the team at the 2014 RSPCA Million Paws Walk. From left to right: Megan, Zoe, Lauren, Julie, Mieke, and Daisy.
About Megan
Manager
Megan started Critters Pet Care after contemplating how she could make a living doing something that she loves (cuddling animals) and fit it in with her studies. Over her years as a chronic student, completing a BSc (psychology), BScTech (zoology), Cert III in Companion Animal Services, and Graduate Diploma in Education, Megan grew her business beyond what she could cover herself, and so gradually added some wonderful, hand-picked people to help her look after the many pets of Perth.
Growing up partly in the city and partly on 6 acres in Serpentine, Megs has kept a huge number of animal companions including; dogs, cats, mice, rats, guinea pigs, rabbits, fish, chooks, ducks and aviary birds. She has also fostered and rehabilitated a handful of orphaned or ill native wildlife, including kangaroos, a possum, bobtail lizards and a range of birds. She has also worked as a trainer at the Dog's Refuge Home in Shenton Park and volunteered with Assistance Dogs Australia.
Megan is currently sharing a home with her great dane (Banana), three cats (Marlin, Molly, and Moth), several ducks (Sachin Tenducker and his ladies), a hive of bees, and a marine aquarium.
Daisy's love for animals was passed down to her from her parents. From the day she was born she was always surrounded by animals. She currently lives with her cat Lily who is 19 years old (and going strong) and Red Cloud Kelpie sisters, Ruby and Indi. Daisy's parents purchased a hobby farm in York in 2014 allowing her obsession with animals to continue, filling the paddocks with animals not suited to a domestic setting. Her personal favourites being the charismatic alpaca babies, Diamond and Blossom.
After graduating from school in 2006, Daisy pursued her animal passion by studying a Bachelor of Science majoring in Zoology and Marine Biology at The University of Western Australia. This was followed by Daisy writing her thesis based at Perth Zoo observing the social learning of a small monkey called the Cottontop Tamarin. Since then, Daisy returned to university to complete a post graduate degree in Primary Teaching.
About Julie
Covering the inner northern suburbs
Julie has been an animal lover all her life. She has never known life without at least one dog by her side. She currently shares her home with her dog Buddy, her cat Panther and her snake Kevin ( not to mention a husband and three kids). She hand raised Panther from an abandoned three day old kitten, (feeding him every 2 hours round the clock) to the healthy much loved cat he is today.
Julie volunteered at the Native Animal Rescue Centre for several years and also served time on the committee. During this time she home fostered many birds, bobtails, turtles, joey's and even a bat.
Julie realised a dream last year spending a week caring for elephants in Thailand.
No title is more apt for Julie than "All Creatures Great and Small".
Covering the south-western suburbs
Louise credits her huge love for animals to her parents, who had a wide variety of pets pass through her childhood (dogs, guinea pigs, birds, fish, and of course crazy crabs!), and who almost religiously had her watching David Attenborough docos. Louise has been a small dog lover for years (family pets always being Jack Russels), but discovered the charms of the larger variety when in Canada caring for and helping train Huskys for dog sledding.
After struggling for a few years after high school deciding what direction to take with her life, Louise found pet sitting, and has since then been set on having a career with animals. Constantly trying to combine her love for fluffy things with her debilitating travel bug (a virus that eats all your money but gives you unforgettable adventures), Louise has covered a fair amount of the globe, working with animals anywhere she can. Currently studying Conservation & Wildlife Biology at Murdoch University, Louise plans on somehow making a living out of her unconditional love for all critters!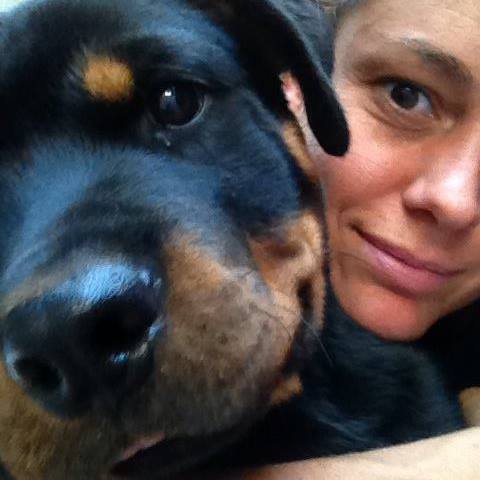 Covering the eastern suburbs
Kristy was surrounded by animals growing up on a farm in Walpole, where her love for all creatures great and small developed. Keeping chickens, ducks, canaries, and quails as well as many cats and farm dogs. Raising beef cattle meant that every year there would be orphan calves to raise (and of course mothers to help give birth!) as well as lambs. A family interest in race horses meant that there was always an abundance of both horses and foals to care for and aid in their training.
Moving to the city, Kristy has been able to continue working in the industry she is so passionate about, by working at a dog and cat boarding and training facility, working with all breeds of dogs with various behavioural issues. After completing a Bachelor of Social Science, Kristy has studied Agribusiness and Landcare and had a career in Real Estate, Restaurant Management and Group Fitness, but her real love has always been animals, thus completing a certificate in Dog Psychology and Training, and currently studying a Master of Animal Science.
Kristy currently has two dogs, a 6 year old Border Collie 'Bill' and 18 month old German Shepherd 'Ted' and a rescue cat 'Ralphi'. Kristy also volunteers as a handler with Guide Dogs WA and writes a monthly article for 'Dogs Life' magazine.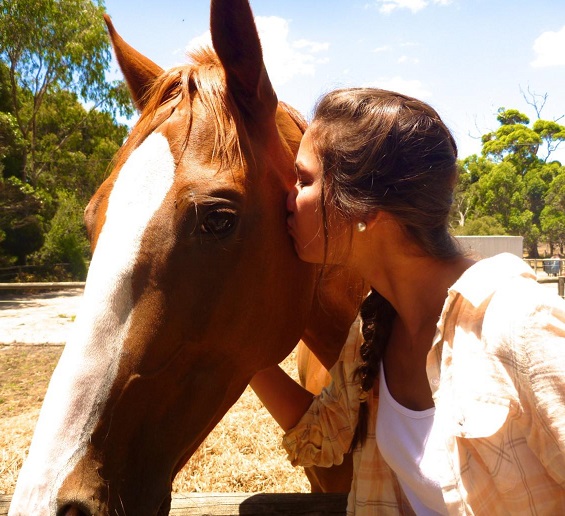 Ashley grew up with animals her whole life, ranging from dogs, cats, fish, mice and horses. Her Grandad had a farm in Serpentine that she frequently stayed at, which had chooks and cows. Currently, Ash has two dogs and two kittens, which she rescued as orphans when they were just one week old.
Ashley is currently studying Veterinary Science at Murdoch University. She also volunteers at Native Animal Rescue, where she assists in the rehabilitation of a range of Australian wildlife species, such as bobtails, joeys, emus, possums and a variety of aviary birds. She has a huge passion for all animals and, being a vet student, is always keen to help and look after them when they are in need.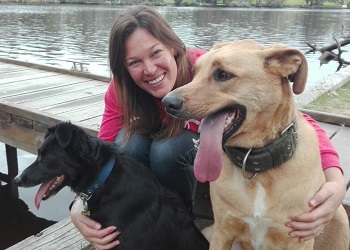 Covering the north-eastern suburbs
Originally from South Africa, Hillary's passion and love for animals knows no borders. She followed her heart and moved to Australia in order to learn more about and make a career out of working with animals, in any capacity.
Hillary volunteers with the RSPCA WA and is sharing a home with her two rescue dogs who are also originally from South Africa, "Fish" (4 year old Border Collie mix) and "Liam" (3 year old Ridgeback mix).
Back in South Africa Hillary volunteered at a shelter called Irwin Animal Rescue Centre and she owns a farm that is and has been home to goats, cows, pigs, sheep, ducks, cats, chickens, dogs and a tortoise. She has learned so much about all the animals that stayed with her and has loved every moment and experience received from it.